Solutions from the brand you trust. Competitive Pricing.
Clear Fold is proud to represent the highest quality in fire station doors.  Unmatched beauty and reliability coupled with incredible speed make our fire station doors the ULTIMATE solution.
With options for limited space, hurricane and tornado ratings, and a variety of features like manual operation override, a lifetime of over 1 million cycles, and horizontal movement, you need to consider the Four-Fold door for your next project.
Contact Us for More Info
https://www.youtube.com/watch?v=mJr8czhiFzs
Speed Meets Beauty
Seconds lost can mean lives lost.
Incredible Speed
14' x 14' Four-Fold Door = Less than 7 seconds to open
14' x 14' Overhead Door = 14 to 21 seconds to open
Horizontal Movement
Drivers know the precise second the doorway is clear to exit.
Uncompromising Beauty
Four-Fold doors add incredible beauty to your station while remaining one of your most cost-effective investments in maintenance and safety.
Painless Operation and Maintenance
Recover valuable time and money.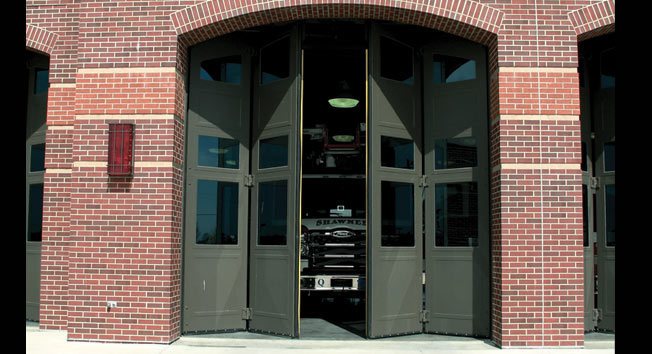 We put in these types of doors approximately 4.5 to 5.0 years ago....We are very
happy with the way they work. I recommend them versus vertical doors; they cost more on the front end, but, their preventive maintenance is a lot cheaper than vertical doors and firefighters tend NOT to damage them by leaving compartment doors open.

Gary Curmode

Fire Chief, Copper Mountain
The doors overall have been very durable and prompted us to come back and have them installed in our latest station project which is the relocation of Fire Station 2.

Curt Pronk

Administrative Services Manager, City of Rochester, MN
Limited Space
The Four-Fold XT™ operator is interior mounted while the door panels fold to the exterior. This eliminates the bay space that is needed with the regular Four-Fold design.
The Four-Fold XT™ door is still built with all the benefits of our standard Four-Fold door. The heavy- duty design and construction of our Four-Fold door enables it to function under high cycle and other severe conditions, which create chronic service and maintenance problems for the conventional door alternatives.
Hurricane Rated
The Four-Fold 701 has been tested and approved for High Velocity Hurricane Zones, up to 120psf and has been approved by the Florida Building Code (#FL17136).
The Four-Fold 701 Hurricane Rated door is built with 11-gauge structural steel tube and 14-gauge cladding on the exterior and interior sides. The cremone lock concealed in the panel and the weather seals with no exposed fasteners give a clean finish.
Tornado Resistant
The Four-Fold 800 Tornado Resistant four-fold door system has been designed for, tested & passed ICC-500 & FEMA 361 storm shelter requirements.
The Four-Fold 800 door is built with 3/16″ tubing and 12-gauge sheeting, reinforced window frames and 1 1/4″ impact glass to withstand 100mph impacts. A power or manual operated cremone lock secures the door. The FF800 is available with either no windows or with up to four (4) 12″ x 12″ windows.